Välkommen hit!
Vi har arbetat som illustratörer i närmare trettio år. Att vara tecknare är ett roligt sätt att ta tillvara på skaparkraft och kreativitet. En utmaning är att förverkliga en uppdragsgivares idé. Att också kunna omsätta samhällsföreteelser i egna idéteckningar är inspirerande och utmanande. 
Här på vår sida ser du exempel på hur vi arbetar med illustrationer. Vi använder traditionellt papper och penna, men arbetar även i Photoshop, Indesign och Illustrator.
Historisk miljö och inspirerande platser
Vi har förmånen att få arbeta med olika uppdragsgivare. Bland annat Natur & Kultur, Sanoma utbildning, Arguments förlag och Libris. Även Konsumentverket, Svenskt vatten, och SPSM. Det är också roligt att få samarbeta på det lokala planet med företag här i Vadstena. Vi har även en kulturell sida där vi deltar i Vadstenas konstrunda med Sveriges enda gångbara runda! Vill man ha ett porträtt till en jubilar, illustrationer till en egen liten bok eller bara köpa några vykort går det bra att titta in till oss.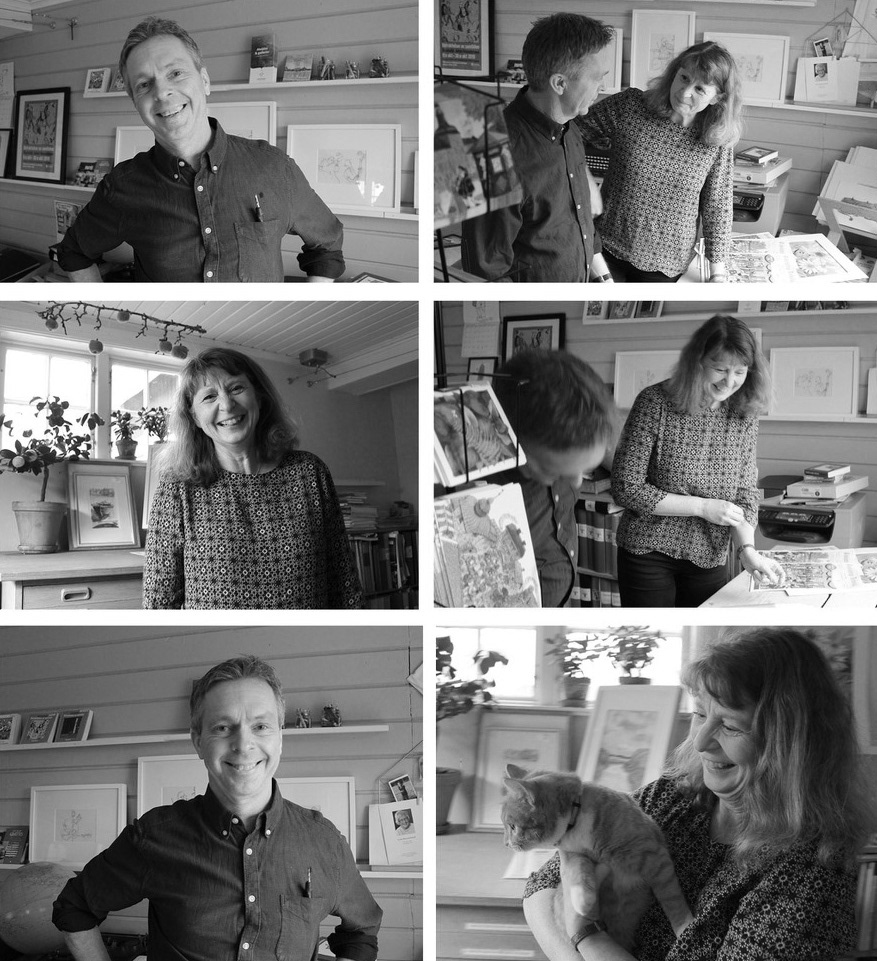 We have worked as illustrators for nearly thirty years. Being a cartoonist is a fun way to take advantage of the creative power and creativity. One challenge is to realize a client's idea. To be able to transform social phenomena in our own pictures is inspiring and challenging.
Here on our site you will see examples of how we work with illustrations. We use traditional paper and pencil, but we also work in Photoshop, InDesign and Illustrator.
Historic environment and inspiring places
We have the privilege to work with various clients. Among other publishers Natur & Kultur, Sanoma utblidning, Arguments förlag and Libris. Even Konsumentverket, Swedish waters, and SPSM. It is also interesting to get together at the local level with companies here in Vadstena. We also have a cultural side where we participate in Vadstena konstrunda with Sweden's only walkable round!
If you want a portrait of a celebrated, illustrations into your own little book or just buy some postcards you are welcome to visit us.